Our Bariatic Stairlifts provide a beautiful and efficient means of traversing the different levels of your home efficiently and safely while our Elite range offer an innovative design to rival many stairlift makes and models.
All of our heavy duty stairlifts are designed to be unobtrusive to your home, blending effortlessly into your home decor with such ease, you'll barely notice they're there.
Our Elite range, Heavy Duty Stairlifts and Bariatic Stairlifts are all made with a unique weight capacity of up to 190 kilos (29 stones) and have all been carefully designed with your safety and comfort in mind. The UK Stairlift Elite Stairlift range is available for both straight and curved stairways, so no matter the specifications of your home, we're sure we can help you find a stairlift to suit your every need.
Precision Engineered Heavy Duty Stairlifts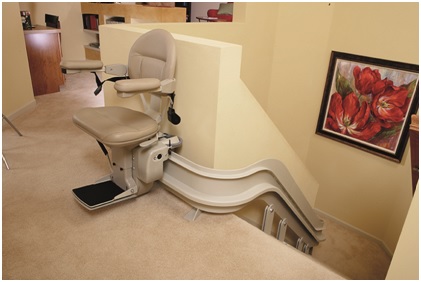 Engineered by Bruno Independent Living Aids (the market leader in high-quality stairlifts in the US), our UK Stairlift Elite range of heavy duty stairlifts represent more than a decade of careful research , patience and a lot of love.  Each stairlift has a stunning honeycomb rail design for improved stability while visually coded diagnostics enable the unit's operational status to be seen at all times.  Combining innovative design with unparalleled performance, durability and safety, the UK Stairlift Elite heavy duty stairlift range is capable of surpassing your expectations in every possible way.
View Our Range of Bariatric & Heavy Duty Stairlifts
Our range of Heavy Duty and Bariatric Stairlifts can be incorporated into any home in a subtle and stylish manner. Their efficient and stunning designs means that there's something for everybody in our heavy duty and Bartiatic Stairlift range.  We ensure all of our stairlifts are fitting with the upmost care and precision to your home. We ensure that no damage or scuffing occurs during installation and the appealing designs of our stairlifts ensure you're able to enjoy the comfort and security of your stairlift without needing to compromise the aesthetical appearance of your home decor.
To ensure you get exactly the type of stairlift suitable for you and your home, our professional and friendly engineers take your specific requirements into account, so you get the perfect stairlift each and every time.
Buying a stairlift is a big step in your life. We understand that for some people, this may be a very important and very personal step. Our friendly and professional staff are always on hand to offer you advice on all of our Elite and Bariatric Stairlifts. If you would like more information about any of our products, please don't hesitate to contact us today on 0800 046 3438.
Straight Heavy Duty Stairlifts
Combine quality, comfort and style with an Elite Straight stairlift. our Elite heavy duty Straight stairlift offers worry-free access and the premium design blends in with your home's environment.
400 lb capacity – that's over 28 stone
Consider options such as power swivel seat and power folding footrest to customize your Bruno Elite stair lift to match your unique situation.
Contact us or call us on Freephone 0800 046 3438 for a free quote and learn why UK Stairlifts earns high stairlift reviews and customer satisfaction ratings
Luxury appearance, quality
Multiple options for individual needs, tastes
Exceptionally smooth, quiet ride
Continuously charges unit anywhere on rail
Designed for maximum free space on steps
Vertical rail with covered gear rack for clean appearance
Offset swivel seat; flip-up arms; folding footrest/seat
Dependable service even in power outage
Curved heavy duty stairlifs
Enjoy the stairlift built specifically for your home. Experience the smooth, quiet ride of Bruno's Elite Curve stair lift from start to finish. With Bruno's signature stairlift, the quality and comfort are second to none. Add power options to further customize your Elite curved chairlift to fit your lifestyle.
400 lb capacity that's over 28 stone
Call us on Freephone 0800 046 3438 or Contact us to arrange a free consultation from a trained UK Stairlift engineer. Find out why UK Stairlifts receives great stairlift reviews and high customer ratings!
Top-selling curved stairlift in North America
Multiple options for individual needs, tastes
Exceptionally smooth, quiet ride
Luxury quality, stylized chair
Custom-crafted to maximize stairway space
Offset swivel seat; flip-up arms; folding footrest/seat
Dependable power even in electric outage
Wireless call/send controls