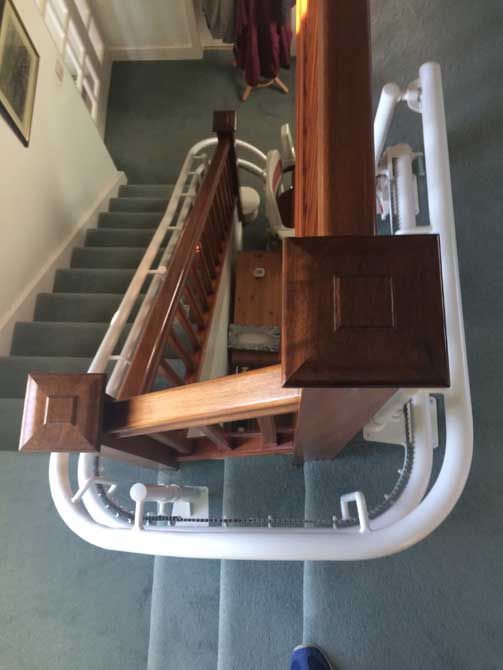 Unlike straight up and down stairlifts, our curved stairlifts are designed to travel up and around cornered staircases. The versatility of a curved design allows for easy installation anywhere, from a staircase with a single bend to spiral staircases. As such, you can now move around your beautiful home with style and convenience as our accessible stairlifts are installed with your peace of mind at the highest of regard.
As a proud member of Checkatrade since 2014, our extensive ranges of new and reconditioned stairlifts are provided by a number of leading manufacturers who specialise in making stairlifts to go around curving stairs. The work of renowned brands can be installed according to your specifications at your convenience.
A Variety of Curved Stairlift Designs
With each stairlift, we offer peace of mind and a safe, smooth ride, with each product available in a range of styles and seat colours so that you needn't compromise the style of your beloved home when installing one of our high quality lifts for stairs.
Just like each individual's needs can differ, we understand that every staircase is different, which is why we are proud to offer a bespoke stairlift solution, tailored to suit your needs and designed to accommodate virtually any staircase and rail type. Due to the versatility of the products on offer, our stairlifts can also be installed on either side of your stairs to maximise the space available and to benefit your ease of use.
Reconditioned & New Stairlifts Available
Our reconditioned curved stairlifts have all the advantages of a new stairlift at a fraction of the cost. These reconditioned products are not only affordable, but are also a practical solution of the highest quality with a comprehensive repairs and maintenance service.
Each stairlift is installed by one of our friendly and qualified engineers who will provide expert advice as well as a friendly and reliable service. Whilst quality is guaranteed, both our reconditioned and new curved stairlifts come with a complete aftercare service for that extra peace of mind; our reconditioned stairlifts also come with a 2 year warranty, and a 3 year warranty is given with any new installation.
Contact UK for High Quality Curved Lifts
With our range of flexible purchase options, we can provide the right stairlift for your cornered staircase in the most affordable way, whatever your budget may be. So if you're looking to buy a curved stairlift of any description, you can rely on us to accommodate your individual needs.
The HomeGlide Extra stairlift for straight staircases provides a premium stairlift for those who want the ultimate in options, luxury and elegance.
With a choice of fabric colours and compact dimensions, HomeGlide Extra is an elegant and attractive addition to any home. The HomeGlide Extra has the simplicity that allows the stairlift to be installed very quickly. Fitted directly onto a staircase cleanly and discreetly, the stairlift glides effortlessly along an aluminium track.
Flow Curved Stairlift
The Flow2 single rail stairlift is the market leader when it comes to curved stairlifts and is the smartest lift of its type.
Flow is the only stairlift on the market which is capable of swivelling during the ride both up and down the stairs. This unique and patented feature makes the Flow stairlift capable of fitting most staircases, straight, around corners or even spiral.
This compact stairlift looks simple on the outside but the technology on the inside is extremely ingenious. The angle of the staircase can vary from -70° up to 70°.
Features and Benefits
Versatile
By using its patented power swivel system, the Flow curved stairlift can tackle staircases as narrow as 61cm (24 inches) wide, swivelling the footrest as it goes – the rail also sits closely to the stairs, making Flow the most adaptable stairlift in the world – no other stairlift can boast this.
Comfort
The Flow curved stairlift has a seat which is ergonomically shaped to the user providing for a more enjoyable ride.
Aesthetically designed
The Flow stairlift is designed to be a feature of the home, rather than just a mobility product; the user can choose between three fabric colours, four vinyl, six elegant leather and three comfort leather to determine the best fit.
Choice of armrests
Optional curved armrests fold inwards to make the user feel more secure during travel.
Suitable for all
The seat height is adjustable to five different positions when a powered swivel is used (set at installation), which means that Flow stairlift can be adjusted to suit a variety of users.
Unobtrusive
Flow folds neatly for storage, using its linked seat to footrest mechanism, removing the need to bend and manually fold the stairlift.